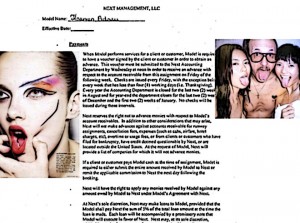 It doesn't compare with the uncovering of 15,000 Iraqi corpses no one had previously acknowledged (but that is not exactly a trending Twitter topic today, is it?)  Still, there are some eye-opening revelations contained in "What Vogue really pays its models".
I harbor no illusions about the fashion industry (two words: Terry Richardson!), but I was actually kind of shocked by Jenna Sauers' examination of the numbers and arrangements brought to light by the $3.75 million lawsuit filed by three eastern European models against the Next Agency.
Really, the day rate for "new faces" at Vogue is $125. And for "established models" $250!
Although that is pretty hard to square with the only model quote most people remember ("We don't wake up for less than ten thousand dollars a day"), apparently the editorial pay rate is hardly a secret.
BUT, in at least one model's case, those modest fees still hadn't been paid nearly a year after being incurred. And after looking over the contracts,  you could make the case that the agency in question, which is supposed to work on behalf of the models, offers something like indentured servitude for all but a few of  them.
The piece is funny/shocking, a perfect balance of outrage/bemusement (the author, Jenna Sauers, is a former model). The myriad ways agencies take advantage of their clients (typically teenagers, frequently girls with little or no English) is dizzying, to say the least.
A brief excerpt, and Sauers' conclusion:
Next also includes in its standard contract a provision that it be permitted to keep up to $5,000 of a model's earnings in what it calls a "Reserve Account," just in case Next incurs any expenses on the model's behalf at some time in the future. Pedaru isn't subject to this clause — it's crossed out. But in its standard form, this contract binds a model to a management agency that will first take 20% of everything that she earns, then take a bite out of the rest for miscellaneous expenses that it need not inform the model of beforehand or seek her permission for, a management company that may book her on jobs for clients that have a record of non-payment at her sole risk, and then, if she's still in the black after all that — and a lot of newer models, especially those on the hook for the travel costs booked by the agency, and the rent at the models' apartment the agency owns, and the grocery and phone bill money they have to borrow against their future earnings (at a 5% penalty) which agencies call "pocket money," are most assuredly not in the black after the above calculations — if that model is in the black after all that, the first $5,000 left over is the agency's to hold on to. Just in case. Pedaru was three months shy of her 16th birthday when she signed her contract with Next.

The lessons here? Vogue Paris pays crap, Vogue pays not much better, neither of them pays particularly quickly, and campaigns are worth a mint to everyone lucky enough to work on them. And if you are a 5'10" 15-year-old with 34″ hips who would like a job where you'll bear all the market risks associated with your labor, be solely responsible for expenses outlayed by others on your behalf without your consent, and maybe meet nice, successful men like Terry Richardson, modeling might just be the ticket.