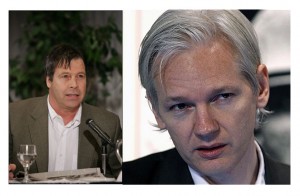 Don't get me wrong. I LOVED Jack Shafer's Slate piece, "Why I Love WikiLeaks: For restoring distrust in our most important institutions", and this may be a quibble … but there's an obiter dictum that screams out for comment:
Oh, sure, he's a pompous egomaniac sporting a series of bad haircuts and grandiose tendencies.
Juilan Assange has a lot on his plate, including a warrant for his arrest and calls for his assassination (actual crimes, by the way)–from that Canadian oaf ("feeling manly today") and others, so let's not make him all anxious about his hair.
It could be that this is an old picture of Mr. Shafer, and he now sports a new, more stylish coif. Or maybe Google Images has led me astray, and that isn't even a picture of Jack Shafer. In either case, my apologies.
But otherwise … something something … glass houses … shouldn't throw stones.