Yesterday at a Goodwill here in central Kentucky I picked up "Over the Rainbow: Capitol Sings Harold Arlen" on cd and I've been over the moon, maybe the rainbow too, listening to it. 

As much as I love music from the Golden Age of Jazz/Pop, my knowledge of who came up with the songs is …. limited. I know myCole Porter, Hoagy. Gershwin. Rodgers and Hart–and after that it gets a little patchy. Harold Arlen, born Hyman Arluck in Buffalo at the dawn of the 20th century, wrote a whole bunch of standards I knew, but never knew it was one guy who wrote them all. Arlen was the lyricist for Somewhere Over the Rainbow, Stormy Weather, Get Happy, and It's Only a Paper Moon, to name just a few. Oh, and Ac-Cent-Tcu-ate the Positive, which gets two version on this collection: the Johnny Mercer hit and a version sung by Arlen himself, which wasn't bad!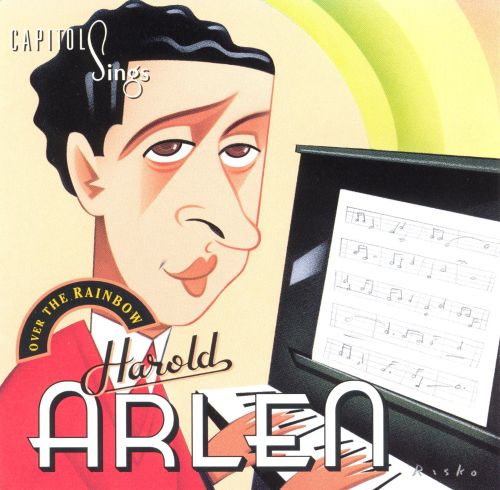 Got to thinking about all the "Capitol Sings" cds in my possession. A lot of them, some of which survived our house burning down two years ago, some that didn't, and more than a few I've bought since. Capitol Sings … Coast to Coast … Around the World … Kids Songs for Grownups, etc. as well as composer-specific titles. I've always treasured the Cole Porter collection. 

Which brought me back to the person who turned me on to them: Sujata Murthy, who in late 80s/early 90s was a mid-level publicity person at Capitol Records in Los Angeles. In those days, if you worked in book publicity or marketing, you could cold call someone at your level in music PR and start a "trading" relationship. Books for CDs. It was a golden age, truly. There were days when I found boxes of CDs, titles requested and not, at the mail drop, I did my best to return the favor with books.

Truth be told I did not cold call Sujata, I was able to drop Harper colleague and good friend Deborah Kwan's name (thank you, Deb!!!) And once Sujata and I met for lunch at the Time Cafe, Lafayette and Great Jones. It was late afternoon, and the place was quiet except for Russell Simmons holding court  noisily in the back. And weirdly, in this near empty restaurant, a guy who looked like Dennis Leary (wasn't him though),  was sitting right next to us, listening in on our conversation, and muttering nasty things to us, mostly (I think) to me. It was uncomfortable–not call the manager uncomfortable, but … weird.

That's it. That's the story. Sujata was great but we lost touch after I moved on from Harper. I think when I "went freelance" (voluntarily became unemployed) I wrote some artist bios for her. Was pretty proud of my Dean Martin effort, which lingered on a floppy disk for a while until that damn fire.  

Decided to google her and she reached a pretty high place in PR for Universal Music Group.

Anyway, a random (fond) memory of another life.